Software
Mantra Lingua have some powerful software that work with PENpal: FreeLINK, CreateLINK, ShareLINK, YouCREATE. These are all free to download. In addition our Mini-book Creator software, eGrammar Tales, have attactive licence offers and work with PC's. MAC versions are not yet available. YouCREATE is compatible on both platforms.
Following is a description of each software and a 'download' button to install into your computer.
Mantra Lingua has the largest collection of talking printed books - more than 900 - and this list is growing. Although the books look like typical picture books, they can record and playback audio with PENpal. Currently there are over 900 bilingual audio files which can be downloaded into your PENpal with the FreeLINK software.  As the name suggests, access to most of our audio files is FREE. (They typically cost between $4 and $6 each.) FreeLINK enables you to pick and mix whichever files you need and download them easily into your PENpal. You can download up to five files at a time from any PC.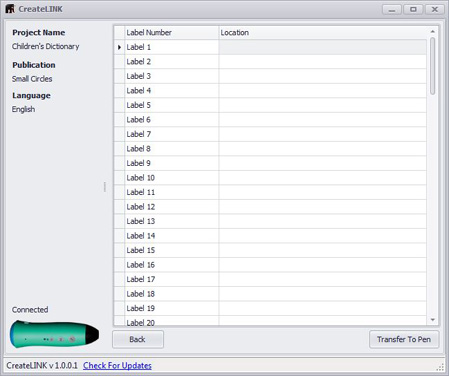 CreateLINK is designed to bring sound to ANY book!
You may have posters or maps and of course, you have your favourite books. Now you can sound enable them with our recordable sticky labels and PENpal. CreateLINK helps you to play MP3 files from sticky labels. What is more, only you can erase or amend them, so no student or child can accidentally record over your recordings.
The process is very easy, but first you must have MP3 files of voice and song recordings. Many childrens books have CD roms and these are normally MP3 files. There are a lot of free sound files on the intenet that you can access as MP3 files. Most computers or smartphones allow you to make voice recordings and these are in MP3 format.
You can make a recording of your favourite book, ensuring that every page read out aloud is a separate MP3 file. Or you may make a photo book with our free YouCREATE software and make recordings for every page in MP3 format. Or you may wish to make posters, etc that will hold your voice. Or if you have trouble reading garden tags, why not make recordings about a plant, instructions for watering, etc...and store them in our 'laundry labels'.
All this is possible with CreateLINK.
The Software will allocate the files to the sound spot you have selected and transfer it into your PENPal. Once this confirmation appears, you can touch the sound spot, sit back, and listen. Easy!
How CreateLINK works
Click the CreateLINK icon and you will see a screen with few input options: project name, language and the publication. This is where you start your project.
Give this project a title and then select from the predefined range of soundspot profiles. For example, if you wish to enable sound on the Talking Photo Album that you have received (page 23), then select the Talking Photos profile in CreateLINK. Remember to periodically accept new upgrades of CreateLINK as new profiles are added.
Make a list of all the audio files that you want to have in the publication you are creating. For example, in MFL, you may wish to have simple songs in French and Spanish. If you have a CD or use the Internet you can save the songs that you want and allocate one French and one Spanish song to one sound spot.
Once you have allocated all the songs, press 'GO' . CreateLINK then compiles all the files with soundspots into one single file which is installed into your PENpal.
Touch a soundspot that may be a sticky label, and hear the first song aloocated to it.
CreateLINK allows you to make one publication free. For further publications you will need to order 'Start' arrows that will be unique to your publication. You can buy 135 start arrows for $100. Please email  More details here
 
ShareLINK is our free software that complements the new "Collaborative Learning" Library of Learning Activities. Collaborative Learning is based on learning through dialogue, discussion and debate, conversation and discovery in pairs or groups. ShareLINK allows schools to share their audio recordings related to any individual activity with other classes and schools.
The simple but powerful software acts as a library of all the collective work on different activities and can be shared free of costs. For detailed information on the different activities please see the Collaborative Learning Library. Since activities are being added every day, please go to our website for the latest additions.Sharelink is only available to people who subscribe to the Collaborative Learning Library.
The fundamental principle behind collaborative learning is that learning occurs through discussion and debate, by speaking and listening. This project has a rich heritage over the last 30 years and Sharelink has developed the process of community building - be it between pairs of students in the classroom, between classes in the same year, or even between schools.
As the files are stored centrally on Sharelink, the work is always available for assessments by inspectors, and for future students.

Collaborative learning is being used not only in subject specific areas but also in MFL and EAL.The software is free and we invite you to join the community.
These award-winning CD Roms give children 'construction kits', allowing them to create their own environments. Decision-making is explored through ICT. Each CD Rom comes in English with 10 different languages, making them perfect to support EAL learners.
Children will adore the squidgy, textured illustrations that bring the characters to life. The CDs are a fantastic way for children to build their own worlds, developing mouse-skills and improving their interaction with computers.
Price for each CD-ROM is £15.00 + VAT.
Create a bilingual booklet with your school's vital information: addresses, policies and procedures. The booklet may be printed out in English with 19 languages. The price includes a full licence which does not need to be renewed.
Parents gain confidence, manage their time better and communicate more effectively with you. Personalise a Welcome Booklet of vital information for parents and visitors to your school.
Price for each CD-ROM is £150.00 + VAT.
Click here to get this product
Mantra Lingua have some powerful software that work with PENpal: FreeLINK, CreateLINK, ShareLINK, YouCREATE. These are all free to download. In addition our Mini-book Creator software, eGrammar Tales, have attactive licence offers and work with PC's. IOS versions are not yet available. YouCREATE is compatible on both platforms.
Following is a description of each software and a 'download' button to install into your computer.
A context-based approach to learning English. Ideal for EAL and ESOL, the structure of the programme is mapped against the English National Curriculum in UK.

Pupils watch a video of the story, complete with vivid illustrations from the original picture book, then take part in fun quizzes on reading and listening, comprehension, synonyms, prepositions, capitalisation, word endings, rhyming words, and much more. With the Storytelling function, students can even write their own stories using images from the CD-ROM.

Each Inter-Active Literacy CD-ROM comes with teachers' notes and whiteboard interactivity. Narrated instructions in a choice of eleven languages (Arabic, Chinese, English, Farsi, Polish, Portuguese, Somali, Spanish, Sylheti, Turkish and Urdu) make this the perfect learning tool for the multilingual classroom.
Price for each CD-ROM is £15.00 + VAT.
Children experience the joys of authorship and publishing with this simple software. They make their own books, make their own audio for the books, and can build a display of the titles they have authored!
Place a picture - photo or your own drawing - on every page in the software, then print onto our special Storyfold Paper. This A4 paper will fold down to an 8 page book. Need more pages, just carry on and bind with a staple and tape. Or, if you want to make talking cards, don't fold down but just cut up the A4 paper into cards.
Each page is sound enabled with our TalkingPEN. So you have talking books or talking cards! Easy. Not only can children write their own books but they can also record and re-record their own narrations straight onto the pages.
Price for the Mini-Book Creator Pack is £80 plus vat. The Pack contains the Mini-Book Creator Software, a PENpal and one pad of STORYfold paper (50 pages).
Click here to get Minibooks Creator
YouCREATE
YouCreate is our free 'desktop publishing' software that you can download onto your Mac or PC, and then use to create your own personalised publications. As the programme is on your own desktop, the process of adding and editing text and image (photographs, pictures or illustrations - anything you like!) is so much easier than other web-based systems.
YouCreate has the unique feature of ensuring that each page has at least two soundspots, so that you can add personal recordings using PENpal. This way, you have the tools to create something together as a group, class or even as a school. Pupils can make anything from subject-specific projects to photobooks of trips or special events. Whether yearbooks, storybooks or even project books - the skills developed in writing effectively and concisely, changing and positioning images, narrating audio and sound editing, and generally collating the three separate aspects together, will all be beneficial at both KS2 and KS3 levels.
Furthermore, once a publication is complete, you can send an electronic page-turning version by e-mail to various advocates: parents, experts, other classes and schools, inspectors etc, who could look through the work as an e-book. If you, as a teacher, think the quality is good, you can write to us to promote the publication to parents and sponsors. Of course, we'll ensure a special price to help the school gain a return to help with future projects.